Bernard Adler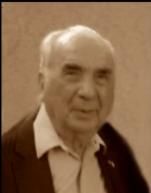 Bernard Adler was born in 1920 in Nagydobos, a country town in Hungary. After the German occupation of Hungary in the spring of 1944, he, his parents, and his eight siblings were first sent to a ghetto and then, a short time later, to Auschwitz. Bernard, separated from his family, was sent on to Mauthausen and then to Ebensee. He attributes his survival in the camps to his skills as a tailor. When American soldiers were approaching Ebensee in May, 1945, the prisoners were ordered into tunnels. However, the underground spread word that the tunnels were filled with explosives to be used by the Germans to blow up the remaining inmates. No one went into the tunnels.
Following liberation, Bernard returned to Hungary where he met his wife Irene. After his move to Israel, Irene joined him. They were married there in 1948 and had one son. After their move to New York, where Bernard resumed work as a tailor, they had a second son.
Bernard's Videos
Stay in Touch with HGI on Social Media!
In partnership with the Kupferberg Holocaust Center at Queensborough Community College. More details to follow!
Featured speaker: Dr. Hikmet Carcic More details to follow!
Featured speaker: Dr. Simran Jeet Singh More details to come!